Select Interviews:
2020
A Healthy Mind, hosted by Dr. Katherine Marshall Woods: What is Psychoanalysis?
Projections Podcast, hosted by Mary Wild and Sarah Cleaver. Bonus: Psychoanalysis, the Occult and Hereditary with Vanessa Sinclair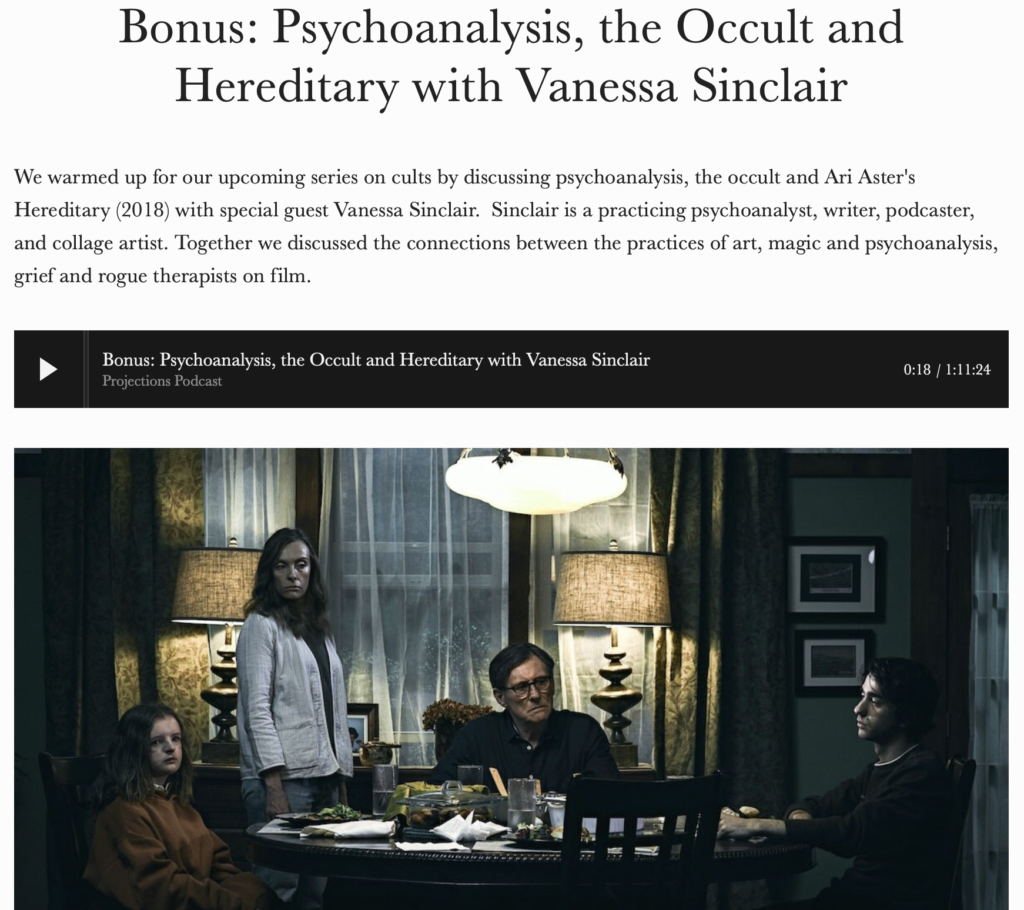 Art Matters UK Podcast, hosted by Ferren Gipson: Psychoanalysing Art
Interviewed by Dr. Robert Beshara for Kemetic means of production podcast
2019
Interviewed with Manya Steinkoler for New Books in Psychoanalysis about our book On Psychoanalysis and Violence: Contemporary Lacanian Perspectives (Routledge, 2018).

Interview with Keats Ross for PragMagick Podcast:
Interviewed by Dan Glenn for Subversive Studies Podcast:
Film created to accompany the interview:
2018
Interviewed for LeoSaySays Podcast:
2017
Interviewed for Virtual Memories Podcast:
11 Questions to Vanessa Sinclair for Die Elektrikschen Vorspiele:
JÚLIO MENDES RODRIGO Since you are a North-American psychoanalyst, I would like to start this interview with the theme of Psychoanalysis: sailing into New York Harbor, Sigmund Freud stood on the deck with his disciple Carl Jung and stared at the Statue of Liberty, when Freud turned to Jung and whispered "They don't realize we're bringing them the plague." In your opinion, does this sentence translate hubris or prescience?
VANESSA SINCLAIR I think this is a great statement, and so true. What Freud did not realize is that society would ultimately repress his psychoanalysis, or do its best to. However, to me this just proves the the theory even further. If Freud was mistaken in his theories, there would not be such a backlash. But the depth at which so many vehemently oppose his theories and have gone out of their way to persecute psychoanalysis and its practitioners, to me shows that he was on to something…
Read the full interview HERE.
2016
Interview with Carl Abrahamsson by Gordon White for Rune Soup:
Please sign up for my newsletter: